Reviews
Professional, knowledgeable & honest!!
We had 4 split units installed & the process of removing old units & replacing with new, only took 2 days.
We're very happy & know this is why they've been around for 60 years!!
LB Heating & A/C technicians are the best. They are on-time, thorough in their work, explain everything, and are polite!
My air conditioner stopped working (during a 5 day heat wave of course) They had installed my system so I called, looking at my record, she let me know parts were still covered by warranty and what the charge for the service call would be and when a service person could arrive He arrived within his 2 hour window, took pictures of what the problem was so he could clearly explain it to me, fixed it and I had air! Professional and knowledgeable - thanks James K
Long Beach Heating & Air Conditioning is the best company I've ever had the good fortune to deal with! You'd be hard pressed to find a company with a more knowledgeable, honest, skilled, professional, and even compassionate staff. I can't give them enough stars...but I'll try!
* * * * * * * * * * * * * and * * *!!!
A few weeks ago I had a terrible experience with my then go to contractor. I contacted two more companies and was lucky to come across Long Beach Heating and Air. Upon inspecting the ac unit Mr. Tom White offered me the least expensive option and made suggestions on how to improve the unit's efficiency. His employees are a pleasure to work with. I am signing up for the 3 year heating and ac annual service plans. I highly recommend this company.
We're very happy with Long Beach Heating & Air. We had our yearly service done and always pleased with their professionalism!
Long Beach Heating & Air installed a new central AC/Heater from scratch at our home in Lakewood which only had the original floor furnace from the 1950's. I worked directly with Tom who is extremely knowledgeable and easy to talk to and was quoted very competitive prices. Their service crew that performed the install was very professional, clean and had great communication and even vacuumed the house around their work areas at the end of each day! Final installed units looked very professional and worked great! They took the time to explain all the work they did and how everything worked including how to operate the thermostat. I highly recommended Long Beach Heating and Air!
We have dealt with at least 3 different air conditioning companies over the years but this company by FAR is absolutely PHENOMENAL! From the moment we met with them to the end, they have been FANTASTIC! Couldn't ask for better. I truly feel blessed and feel a total trust with them (which is rare for these types of companies) Everyone we've had contact with has been great but Connie (office) and Mario (technician) are exceptional. Thank you so VERY much!
just completed a whole house replacement of a 50 year system. Our experience with LBHA was excellent. On time for arrivals, great and hardworking crew, good supervision, class act all the way. I am a retired general contractor - some years ago now - and I watched the entire process. Very professional, very customer service oriented, delivered on-time at quoted price.
From the office to the installation, the staff at LBHA is friendly and positive. Good choice, thanks for a great installation!
I explained that my htr kept locking out at random times over a long period of time and that three companies could not figure out why. The representative said she would send out her senior tech and Mario came to the rescue! He determined that my install had too many 90 degree elbows on the exhaust side. The air was trapped and so my heater would lock out. Mario was very professional. He took photos and explained everything thoroughly. Highly recommend this company and this tech.
We have used LB Heating & Air a few times on recommendation from our plumber, Tom Barile from Primo Plumbing. They have been able to accommodate us quickly and work with issues in our OLD house. Very friendly and professional. We highly recommend them.
Fantastic experience. LB Heating & A/C just installed a new Bryant 3-ton Heating and Air Conditioning unit at my building in Signal Hill. They were professional, precise and did the job on time and at the quoted price. In addition, everyone from the owner to office staff and very importantly to the technical crew were very pleasant and easy to work with. I couldn't be happier with the result and highly recommend them to anyone needing this type of service.
A few weeks ago I had a terrible experience with my then go to contractor. I contacted two more companies and was lucky to come across Long Beach Heating and Air. Upon inspecting the ac unit Mr. Tom White offered me the least expensive option and made suggestions on how to improve the unit's efficiency. His employees are a pleasure to work with. I am signing up for the 3 year heating and ac annual service plans. I highly recommend this company


They were great
I have to say that my experience with the folks over at Long Beach Heating & Air Conditioning were really great. I have gotten so tired of people asking me to review things, but these guys were so good that I could not help but give them an incredibly positive review. The guys that they sent out were really friendly and professional and they definitely knew what they were doing in regards to air conditioning units. They were able to fix mine up in about half an hour and it has been running like a dream ever since. I seriously can not say enough good things about these guys, they are just that great!


Excellent Work
Staff is quite knowlegeable and professional. They are always prompt in responding and they notify you well in advance if they are unable to meet the agreed upon schedule.


lbha are the best.
This organization far exceeds any thing that we expected to get from the first time I used them when my wife and I lived in our condo. Tom and his crew both in the field and in the office are all around great.


A professional company
Long Beach Heating & Air Conditioning does a lot of work for our construction company. They install HVAC units into the homes we build and other odd jobs involving AC units. They're the only heating and air conditioning company that we work with and we've been doing business with them for over ten years. Everyone at Long Beach Heating & Air Conditioning is easy to work with and very professional. I'd also like to mention Connie who always gives us wonderful customer service!


Knowledgeble, courteous and fair priced
Know what they are doing and in all the years of doing business with them they have been showing up on time as promised. Service men have been pleasant and clean. Overall a go to company when needed


See below
They need to follow up on their service contracts proactively. They should not be waiting for me to call. One of the service techs, didn't do anything when he came out. Didn't change a filter. Didn't check for leaks, etc. I called and they sent a second person.


GOOD BUSINESS
COMPANY WAS GOOD AT ANSWERING CALLS, ANSWERING QUESTIONS, AND GOT THE JOB DONE


Prompt, efficient, professional
The company responds promptly to my service request. The technician was friendly and knowledgeable. He provide a number of options and implemented the one I chose. The overall experience was dealing with a professional outfit. Recommended.


Prompt scheduling, good workmanship, fair and honest pricing
Great company to work with - from the owner to the office staff, to the service technician. All are extremely knowledgeable and take the time to answer any and all questions. Prompt scheduling, good workmanship and fair and honest pricing. Would definitely use again.


Saved a lot!
Had another co. give me an estimate on why my air was not cold they said I needed a new system at the tune of $10,000! Called LB heating and air and the tech found a small leak that emptied the Freon from system and he fixed and refilled, the system worked fine and has for 4 yrs.


Extremely Customer Service Oriented
This company has both installed and serviced my heating and air conditioning system for the past ten years. I have been very impressed with the courtesy of the service technicians and the phone representatives over the years for both their personal and technical expertise. So, I renew my contract each time it is up for renewal. However, no one is perfect,so that is why I provided a total experience rating as a 4.0 - there is always room for improvement. Thank you for taking care of your customers.


Overall excellent
Today, Mario came to my house and discovered the Freon leak. He promptly handled that problem and fixed it. Also, he performed the full annual maintenance service and explained everything that he was doing. In summary, he was very thorough, clean, and professional.


Very pleased with them for years.
I have used Long Beach Heating & Air Conditioning for about 7 or 8 years and they do semi annual service on our HVAC system and they are very efficient. I also used them on commercial building I built, and they also now do service on that building as well.
I have had nothing but great service from them, I would recommend them to anyone.


Customers for 12 years. Always nice, good, on time and stress free.
We've been customer of Long Beach Heating & Air Conditioning, Inc. for 12 years now and they have always been prompt to respond. They get here on time and they do what they need to do, so, it's been pretty stress free for us. They are just really nice people and I'm happy to give them good feedback.
Award Winning Bryant Factory Authorized Dealer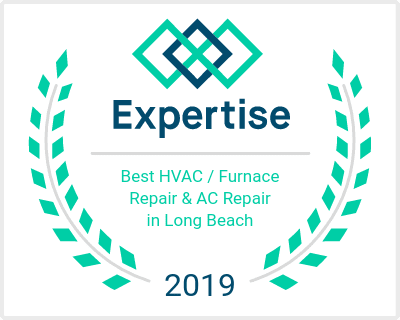 Recent Projects
Our experienced, factory-trained HVAC technicians completed a new furnace installation in Long Beach for a residential customer. We are highly qualified to install a range of heating systems, including heat pumps, gas furnaces, and packaged systems.
View All