Reviews
A SMOOTH TRANSITION TO SUCCESS!
I just want to say a BIG "Thank you"!
I have heard nothing but great things about you, and LBHA, from other happy clients, from the City Inspector, Chesley Electric, and from the Crew and Staff at LBHA.
It has been a pleasure working with, first Whitney, then Dave, and then Jorge Morfin.  We had a challenging installation but Dave and Jorge were willing to reassess, and problem solve with us.  Our installation went very well.  Jorge is very skilled and hard-working and definitely takes pride in his work.
We really appreciate the efforts made that insured our installation was a smooth transition to success! I want you to know, we won't hesitate to refer LBHA.
EXCEPTIONALLY PROFESSIONAL, COURTEOUS, AND COMPETENT
From start to finish my experience with Long Beach Heating and Air has been extremely satisfying.
You all have been exceptionally professional, courteous, competent, and remarkably customer service oriented.
To say the least it has been a pleasure working with you. I just can't say enough.
Tom, you are the hero of the whole operation. Your years of experience are highly valued.
Dave, Thanks for your before and after visits. You moved things along and were very prompt for appointments.
Justin, You and your crew are highly skilled. You came, you scoped things out. You got everything done with alacrity and the highest quality. Things couldn't have gone more smoothly.
Keshia, It is just a joy talking with you on the phone. You took care of the details so effortlessly. Everything went just like clockwork.
And, all of the rest of the crew, You are a well oiled machine. Everything got done. My expectations were greatly exceeded.
Wow !!! I just can't say enough !
QUICK RESPONSE AND TIMELY INSTALLATION
Professional team from sales, administration, and installation to replace my evaporator coil. Response was quick and installation completed timely. Thank you LB Heating and Air Team.
GREAT TO WORK WITH
Long Beach Heating & Air Conditioning has been maintaining my HVAC unit for me for the last several years. They have been great to work with! I first found them when I wanted to start maintenance on my unit. They have always been able to schedule a maintenance appointment within a reasonable amount of time and have been willing to accommodate the restrictions I have to follow with my HOA.
I eventually signed up for their yearly maintenance package to keep my unit up to date. They were proactive about reaching out to me to make sure that I was using all of the tune-up appointments included in that contract so that my unit performed well.
All of their staff are extremely friendly and I enjoy talking with them.
HIGHLY SATISFIED WITH WORK COMPLETED
Excellent work and professional service. From initial service call request, to timing on technician arriving and completing work. Highly satisfied with work completed.
Description of Work: Serviced existing AC units at commerical building in Los Alamitos
VERY PROFESSIONAL, FLEXIBLE, AND HONEST
I was referred to LBHA by my property manager/real estate agent. Apparently, most of the agents in Long Beach refer them. I wanted to install heating/air for my rental property. Dave Sandoval, VP of LBHA, sent me a proposal, was very professional, flexible and honest. My attic space was too small to install central H/A so Dave suggested the Samsung Ductless Split Systems for the rooms. I am very pleased with their work, professionalism, my tenants are happy and I will refer Long Beach Heating and Air to friends!
Description of Work: Heating and Air
HVAC UNIT IS WORKING LIKE NEW!
We called this company because they saved our neighbors - they'd been told by other HVAC companies that they needed an entirely new HVAC system, but Long Beach Heating & Air went to their house, fixed one little thing and their unit is working like new. We knew these technicians have integrity and would be honest when it came to our house, too.
They came out and tuned up our AC unit today, which embarrassingly we have not maintained in the five years we have had our home.. The tech replaced the filter and we'll have them come back before winter to check on our heating equipment, too.
AWESOME COMPANY! HIGHLY RECOMMENDED!
Awesome company! Mark went above and beyond to get my a/c fixed. Highly recommended! They will not disappoint.
WORKED VERY CLEAN AND RESPECTED THE PROPERTY
Easy service!! Very competitive quote. They put the original one 26 years ago!! The crew arrived on time and worked very clean and respected the property.
I highly recommend them
WENT ABOVE AND BEYOND
It went very well. My technician, James Kilpatrick, went above and beyond and vacuumed out the well below the compressor fan in the outside unit, as well as washing the furnace filter before placing it back in the drawer.
Description of Work: Annual air conditioner and furnace maintenance
FINAL INSPECTOR COMPLIMENTED THE COMPANY! JOB WELL DONE.
The communication to install was very good. The installers came exactly when we were told. They registered all the products for us. The final inspector complimented the company on a job well done.
Description of Work: Move & install new gas furnace to the attic and install new AC
VERY PROFESSIONAL AND HELPFUL!
Needed to replace the whole unit which is on the roof of my condo, along with the heat pump inside the home. It was a big job and they told me it would take about a day and a half. They arrived on time with a crane and were able to complete the job in one full day with 2 guys. Good customer service and follow up. Very pleased with LB heating and air. One caveat: they are not the cheapest, and I knew I could save a little by going with another company. But this company gave me the peace of mind and service that I was hoping for and I was not disappointed. Definitely recommend LB heating and air! By the way, senior technician, James, was very professional and helpful!
EXPLAINED EVERYTHING. . . FRIENDLY AND POLITE
Kiki Morfin arrived on time and wore a face covering which, at 80, I appreciated very much. He explained everything he was doing and asked me to choose one of the thermostats he'd brought with him. He was friendly and polite and did an excellent job. He is a first-rate employee!
GREAT CUSTOMER SERVICE, REASONABLE PRICES
I scheduled our AC and Heater for an inspection and maintenance check, since it had been several years we have lived in our home and never performed any. LBHA - technician Mario Chacon - great customer service, reasonable prices, and very respectful/professional all the way around. No payment until after work was completed and we were happy. I also have a home warranty on a 2nd property I had them do maintenance on, and they provided great service and suggestions for the units at that location, as well.
I would highly recommend them - reasonable, attentive, professional, and a local company that has been in business a long time - that says something!!!
TOP NOTCH SERVICE COMPANY
Being a home owner i find myself trusting repair professionals. Long Beach Heating and air are a top notch service company. We had a service contract with another company who lied and tried to take us to the cleaners. Thanks to Tom and the staff we were protected. The other company wanted 32,000 to redo our system. The other company went so far as to disable our heater. One call and two plug ins later, all of 5 minutes, the heater " magically" started working again. Long Beach Heating and Air gets my business and should get yours too."
THEY ARE AMAZING!
I work with them and they are amazing ! They also serviced my family in Downey. Staff is amazing and Tom really cares about his customers ! I've witnessed first hand how great the company is from within. Not everyone is perfect but these guys work hard like you wouldn't believe !!
VERY POLITE AND EASY TO TALK TO
It went well the two guys that came to do the job were on time and very knowledgeable of what they were doing. Very polite and easy to talk to, I would definitely give them a call back if I need any other services. Highly recommend them!!
Description of Work: Replace my dryer vent pipe
EXCELLENT . . . SIGNED UP FOR 3-YEAR MAINTENANCE
Excellent attentive and professional from Mario. On the spot, I signed up for the 3 year maintenance service.
Description of Work: Routine maintenance of my furnace & A/C
I COULDN'T PRAISE THEIR SERVICES MORE
On time. clean, efficient and friendly! I couldn't praise their services more. Over 20 years ago they fixed my 1947 floor heater that still runs perfectly, and this week they put in a wall mount, ductless Air conditioner in my practically all window garden room so I can stay cool now when the heat sets in. They deserve your work,!
EXCELLENT SERVICE!
HVAC assessment, split unit proposal, assessed attic for insulation (which there was none!), provided referral for insulation, etc. Excellent service!
SHOWED UP ON TIME . . . POLITE AND RESPECTFUL
Our heater had not been serviced in years so I scheduled maintenance, tech showed up on time and was polite and respectful.
Needed a $25 part, total bill $104 and now all is good. 5 stars
VERY PLEASED WITH THEIR WORK
I was referred to LBHA by my property manager/real estate agent. Apparently, most of the agents in Long Beach refer them. I wanted to install heating/air for my rental property.
Dave Sandoval, VP of LBHA, sent me a proposal, was very professional, flexible and honest. My attic space was too small to install central H/A so Dave suggested the Samsung Ductless Split Systems for the rooms. I am very pleased with their work, professionalism, my tenants are happy and I will refer Long Beach Heating and Air to friends!
ALL DONE TO MY SATISFACTION
Very well. Impressed with the tech's ability to diagnose and replace the worn part. All done to my satisfaction.
Description of Work: Motor assist capacitor replacement.
GOOD PRICE WITHOUT THE COMPLICATED HARD SELL
Good price without the complicated hard sell I got from others. The work was completed promptly and professionally within a reasonable time. Helpful followup visit.
Description of Work: New heating, air conditioning,and ducting.
NO SALES PITCH OR PRESSURE
We had Long Beach Heating and Air Conditioning install an HVAC system in our home in May of this year. We couldn't be happier with their work. From the beginning to end. No sales pitches or pressure. Dave came out to give us an estimate gave us a brochure with the prices and we decided to go with the Bryant. The job was done in a couple of days, very hard workers and kept everything nice and neat. The office staff were always so pleasant and answered my questions and I had many! I highly recommend this company! Good prices and honest!
STANDARD BY WHICH ALL OTHER COMPANIES SHOULD BE JUDGED
Long Beach heating and air conditioning is the standard by which all other companies should be judged. Technician Mark arrived on time, he was friendly and professional , he diagnosed the problem and had it fixed in record time. I will definitely use this company again as well as recommend to anybody in need of their services.
VERY IMPRESSED WITH HIS KNOWLEDGE
We have had Long Beach Heating and Air out several times and have always had great service and friendly, professional technicians. This time, we had Mario who just seemed to have that extra passion for what he does. We were very impressed with his knowledge. We've known for awhile we needed as new HVAC system, but Mario didn't just say we needed a replacement, he fully explained what was failing, that the refrigerant was no longer affordable, etc. We just gave the OK to replace the HVAC.
Description of Work: Another Great Experience
DID NOT TRY TO HARD SELL US
Mario found the leak but it was in the evaporator, which means we had to replace the unit. Our system was old so we ended up replacing both heating and air conditioning units due to compatiability issues and the government no longer allows the use of the type of freon our ac unit used. They did not do a hard sell for us to buy new units. They gave us estimates for just the evaporator and for the new units (3 different quotes for the new units, good, better and best) and they would have made it work if we chose to just replace the evaporator. They friendly, helpful, fast and efficient.
Description of Work: Original call was for air conditioning that wasn't cooling properly. Part of the problem was a blockage in the water drainage system but Mario (their service tec) also discovered a freon leak in the system.
GETS TO THE POINT AND VERY KNOWLEDGEABLE
The owner 💯 experience. Gets to the point and very knowledgeable.
100% SATISFIED!
I've used and I was 100 percent satisfied. I've also referred to two friends and they were also happy with the service.
PROFESSIONAL, COURTEOUS, KNOWLEDGEABLE AND HELPFUL
I absolutely love Long Beach Heating & Air Conditioning! Everyone I've dealt with over the years is professional, courteous, knowledgeable and helpful. This company was recommended to me by a friend who is a customer, and I have been so happy with the service I've received that I've continued to recommend it to my friends and family. I have come to rely on LBHA for its honesty and excellent service. I can't imagine using any other company for my Heating and Air Conditioning needs.
GOT THE JOB DONE EFFICIENTLY AND EFFECTIVELY
We just bought our first home and after the heat was getting bad in the summer decided to pull the trigger on installing central AC. Ryan and Sammy were super friendly and simply put, got the job done efficiently and effectively, and showed us how everything worked very clearly! We'll definitely be calling LB heating and AC for all future needs!
MORE THAN IMPRESSED
I am more than impressed with the entire LBHA staff. Although we had a miscommunication in the beginning the owner was quick to rectify it. I would recommend LBHA to anyone who is looking for any type of HVAC service. Thank you.
FAIR PRICES AND EXCELLENT SERVICE
They replaced a 15 year old A/C unit and coil they installed in 2005. 2 men showed up on time & with masks to install the equipment. They did an excellent job of protecting our carpets. Tested the new unit and showed me how to operate it. I would highly recommend this firm. They have fair prices and excellent service.
FANTASTIC SERVICE AND GREAT PRICE
This company is the only one to call if you need a new hvac system installed. Fantastic service and great price. More than happy with their service and you will be too.
Description of Work: New Hvac System Installed, And New Ductwork.
EXCEEDED OUR EXPECTATIONS IN EVERY WAY!
Great company!!! They exceeded our expectations in every way. Tom did a great job making us feel comfortable during the initial consultation. On the day of installation, Sam, Henry and Javier were excellent!!! They were friendly and considerate of our family and our two dogs. They were very efficient and finished a two-day job in a single day!! We couldn't be more pleased and highly recommend!!!
THEY WERE THE BEST AROUND
They're wonderful. They were very reasonable, they were the best around. It took them less than two weeks to install, it was really great. They were very courteous, they had very nice customer service, excellent work, clean, they didn't make a mess, and trustworthy.
Description of Work: I had heating and air conditioning installed by them.
A GOOD EXPERIENCE ALTOGETHER
I think Long Beach Heating & Air Conditioning Inc is a small family-run company. I like them. They come in and service me once a year. I have them out every year to check out my furnace. I like them. I call them back every year. Good service, so I keep calling them back. Yeah, they're quite good. I would absolutely use them again. I think the price is fair, I mean, I haven't looked around so it's really hard to say. Very good quality. They're very responsive. They put on the stove and they come right out. You know, it's a good experience altogether. Very good punctuality and professionalism.
Description of Work: Long Beach Heating & Air Conditioning Inc did a pre-season check on my furnace. They made sure everything is working okay. They made sure it's safe and it heats up and the thermostat's alright.
HELPED GET ME ON THE SCHEDULE AS SOON AS POSSIBLE
Crystal really helped me get on the schedule as soon as possible. With this recent heat, I've had nothing but difficulty trying to get someone to me. Crystal explained their current schedule and got me penciled in. If there's a cancelation, I may get it earlier.
THOROUGH INSPECTION OF OUR HEATING/AC UNIT
Their professional was on time and very polite. He did a thorough inspection of our heating/AC unit, told us what items needed attention. We set up follow up appt and same gentleman came by. We have used them for 6+ years and have always been super happy with the service.
FAST, FRIENDLY, AND EFFICIENT
Highly recommend this company for you air conditioner needs. They are fast, friendly and efficient. Their customer service office is super helpful especially Crystal. She's the bees knees
KNEW IMMEDIATELY IF WAS A VENT IN THE ROOF
just fine. I did have problems the first time I tried to contact them via Angies List. Never heard back. Called and set the appt up on the phone instead.
Description of Work: I got a notice from the gas company that they could not turn on my gas (after tenting) b/c of a defective vent. I didn't know what they even meant . But They knew immediately that it was the vent on the roof. Fixed that.put in new filter, checked for any leaks ,etc. I'm set for winter.
WE WILL USE THEM AGAIN!
Excellent. Squeezed us in on a hot day, despite having a fully booked schedule. Leona in the office was great and Dan very good as well. Will use them again.
Description of Work: Recharge A/C system with Freon
GREAT EXPERIENCE WORKING WITH A PROFESSIONAL TEAM
I needed to add a two zone mini-split system to a rental unit. I called 2 contractors for quotes. I selected Long Beach Heating and Air Conditioning because their price was half the price to their competitor and they told me I did not need to upgrade my electrical box - they could insert a combination circuit breaker. On the day of installation, the team showed up on time, worked quickly and left a clean worksite with a working mini-split system. A week later, Long Beach Heating and Air sent out a rep to do a QA check on the installation. A great experience working with a professional team. During the QA check, the rep informed me that they had upgraded the unit I had since the unit they had quoted me was not in stock. The upgrade was at no additional charge. Fantastic ! Always get two quotes but be sure one is from Long Beach Heating and Air Conditioning!
NO DRAMA. FRIENDLY AND ALWAYS POLITE
Long Beach Heating & Air Conditioning, Inc. is the best. I have a large unit on an old house that needed to be replaced with very little room to maneuver the crane. No drama. They made necessary adjustments and just did what they had to do. Their employees are friendly and always polite.
VERY HAPPY WITH THE SERVICE
We used Long Beach Heating & Air to work on our system at our home. Dave was very friendly and professional. He was on time. The service was priced right too. I was very happy with the service. Calling and setting it up was a breeze too.
VERY QUICK RESPONSE TIME
I just want to say that Long Beach Heating and Air has great customer service and is very quick with their response time. The office manager Connie was delightful to speak with over the phone and was very helpful. The technician who came to my house was very professional as well. 5 stars LB Heating and Air!
ABSOLUTELY FLAWLESS EXECUTION
Absolutely flawless execution. All three visits were performed using a lock box for entry. I had my furnace inspected, and I decided rather than repairing the 30 plus year old furnace, I had it replaced along with the ducting and adding an additional vent. The job was scheduled for 2 days. The installation was completed in one day. There was absolutely no clean-up needed when I came home. The system is so quiet, I thought they had not finished. Price 5 stars, quality of workmanship 5 stars, professionalism 5 stars, Office Staff 5 stars. The prior system distributed heat very unevenly. This new installation heats very evenly throughout the house. The installation team balanced it perfectly. I also love that the office staff applied for my rebate and registration for me. Nice added touch!!!
SERVICE IS ALWAYS GREAT
I have had a maintenance agreement with Long Beach heating and air for several years. Their service is always great and if you have a maintenance agreement with them I believe you get first priority when there's any kind of an issue going on when you have to call out a service repair person. They recently did some work under my house installing new return ducting. The old ducting had asbestos in it and I wanted that gone. Their crew is always very professional and knowledgeable. I would highly recommend them to anyone for work done at their home.
TIDY, RESPECTFUL OF ME AND MY PROPERTY
Daves estimate was more than fair and he provided a complete breakdown of the work being done. Jorgie and Armando, who did the installation, were tidy, respectful of me and my property, and were a joy to have in my house.
Description of Work: New air conditioner....house did not have one previously.
FANTASTIC! WILL DEFINITELY USE AGAIN!
We just had Mark come out today.FANTASTIC! Let me step back a bit before sing LBHAC praises. We had a whole house remodel done. It included some duct redirects. We were not getting any air from vents we used to gets icicles from. So, we contacted another company. They climbed in the attic and determined the ducts were all just really old. Did not see any issues beyond age. They tested the A/C Unit and reported that due to it's age, we should probably think about replacement. Bottom line, new 4 ton A/C Unit plus all new duct work, $11,500. Fast forward to today. Mark from LBHAC came by. Went into the attic, came down and reported that one of the ducts went nowhere. Well, actually, it was keeping the attic nice a cool... Result? Mark sealed off the duct and now we have much cooler air in the house. He also checked out and replaced a filter. He looked at the A/C Unit and found it to be from Kohler. Very highly rated and generally not found in residential use. No issues with the A/C Unit at all. We will definitely use LBHAC again!
Description of Work: Check Duct work, filters and A/C Unit.
FINE, CARING, AND DEDICATED TEAM
Dear Tom,
I am writing to express how grateful I am to Long Beach Heating and Air Conditioning and for the hardworking teams that recently replaced the two AC units on our roof. The first day, Henry and Justin made use of a scissor lift to put two new condensers on the roof. Though I know it must have taken lots of strength, they made the entire process seem smooth and even easy as if they did it all the time. They worked hard all day and even cut and attached a piece of plywood to the platform to help block the strong winds and salt air that come off the ocean. I very much appreciate that you had the units sent to get a special protective coating prior to installation.
The next day Justin came to finish setting up the AC connections and to work with a second installation crew. They worked together like a well-oiled machine as they went about their set jobs. The day started off cool but then in up to 90 degree heat Conrad, the crew leader, and his assistant Joshua worked tirelessly in the attic and under the house to replace the coils and other parts on the furnaces. Conrad then registered and set up our Ecobee 5 thermostats at the end of a day that went from 8:10 in the morning to nearly 4 p.m.
I am truly inspired by the hard work, dedication, and I should add "kindness" of all of your workers and staff. This extends to Dave who made this all happen and made a return visit to do his quality inspection, answer all of our many questions, and train us on some advanced features of the thermostat that were very important to us.
In addition I must add that the office staff, Connie, Keshia (who handled all of our paperwork and registered our new equipment), and others have always been very helpful and kind. And Mario, who has serviced our older units for the last three years, has always been very friendly and attentive to every need and detail. He, along with all of your glowing reviews, is one of the main reasons I wanted to continue to work with Long Beach Heating and A/C.
Thank you so much for such a fine, caring, and dedicated team. You should be very proud of them all!
HAD 4 SPLIT UNITS INSTALLED . . . ONLY TOOK 2 DAYS!
Professional, knowledgeable & honest!!
We had 4 split units installed & the process of removing old units & replacing with new, only took 2 days.
We're very happy & know this is why they've been around for 60 years!!
LONG BEACH HEATING AIR IS THE BEST!
LB Heating & A/C technicians are the best. They are on-time, thorough in their work, explain everything, and are polite!
PROFESSIONAL AND KNOWLEDGEABLE
My air conditioner stopped working (during a 5 day heat wave of course) They had installed my system so I called, looking at my record, she let me know parts were still covered by warranty and what the charge for the service call would be and when a service person could arrive He arrived within his 2 hour window, took pictures of what the problem was so he could clearly explain it to me, fixed it and I had air! Professional and knowledgeable - thanks James K
I CAN'T GIVE THEM ENOUGH STARS!
Long Beach Heating & Air Conditioning is the best company I've ever had the good fortune to deal with! You'd be hard pressed to find a company with a more knowledgeable, honest, skilled, professional, and even compassionate staff. I can't give them enough stars...but I'll try!
* * * * * * * * * * * * * and * * *!!!
ALWAYS PLEASED WITH THEIR PROFESSIONALISM
We're very happy with Long Beach Heating & Air. We had our yearly service done and always pleased with their professionalism!
FINAL INSTALLED UNITS WORKED GREAT!
Long Beach Heating & Air installed a new central AC/Heater from scratch at our home in Lakewood which only had the original floor furnace from the 1950's. I worked directly with Tom who is extremely knowledgeable and easy to talk to and was quoted very competitive prices. Their service crew that performed the install was very professional, clean and had great communication and even vacuumed the house around their work areas at the end of each day! Final installed units looked very professional and worked great! They took the time to explain all the work they did and how everything worked including how to operate the thermostat. I highly recommended Long Beach Heating and Air!
ABSOLUTELY PHENOMENAL!
We have dealt with at least 3 different air conditioning companies over the years but this company by FAR is absolutely PHENOMENAL! From the moment we met with them to the end, they have been FANTASTIC! Couldn't ask for better. I truly feel blessed and feel a total trust with them (which is rare for these types of companies) Everyone we've had contact with has been great but Connie (office) and Mario (technician) are exceptional. Thank you so VERY much!
COMPLETED WHOLE HOUSE REPLACEMENT OF A 50 YEAR SYSTEM
just completed a whole house replacement of a 50 year system. Our experience with LBHA was excellent. On time for arrivals, great and hardworking crew, good supervision, class act all the way. I am a retired general contractor - some years ago now - and I watched the entire process. Very professional, very customer service oriented, delivered on-time at quoted price.
From the office to the installation, the staff at LBHA is friendly and positive. Good choice, thanks for a great installation!
EXPLAINED EVERYTHING THOROUGHLY
I explained that my htr kept locking out at random times over a long period of time and that three companies could not figure out why. The representative said she would send out her senior tech and Mario came to the rescue! He determined that my install had too many 90 degree elbows on the exhaust side. The air was trapped and so my heater would lock out. Mario was very professional. He took photos and explained everything thoroughly. Highly recommend this company and this tech.
VERY FRIENDLY AND PROFESSIONAL
We have used LB Heating & Air a few times on recommendation from our plumber, Tom Barile from Primo Plumbing. They have been able to accommodate us quickly and work with issues in our OLD house. Very friendly and professional. We highly recommend them.
COULDN'T BE HAPPIER!
Fantastic experience. LB Heating & A/C just installed a new Bryant 3-ton Heating and Air Conditioning unit at my building in Signal Hill. They were professional, precise and did the job on time and at the quoted price. In addition, everyone from the owner to office staff and very importantly to the technical crew were very pleasant and easy to work with. I couldn't be happier with the result and highly recommend them to anyone needing this type of service.
HIGHLY RECOMMEND THIS COMPANY
A few weeks ago I had a terrible experience with my then go to contractor. I contacted two more companies and was lucky to come across Long Beach Heating and Air. Upon inspecting the ac unit Mr. Tom White offered me the least expensive option and made suggestions on how to improve the unit's efficiency. His employees are a pleasure to work with. I am signing up for the 3 year heating and ac annual service plans. I highly recommend this company
THESE GUYS WERE SO GOOD!
I have to say that my experience with the folks over at Long Beach Heating & Air Conditioning were really great. I have gotten so tired of people asking me to review things, but these guys were so good that I could not help but give them an incredibly positive review. The guys that they sent out were really friendly and professional and they definitely knew what they were doing in regards to air conditioning units. They were able to fix mine up in about half an hour and it has been running like a dream ever since. I seriously can not say enough good things about these guys, they are just that great!
EXCELLENT WORK
Staff is quite knowlegeable and professional. They are always prompt in responding and they notify you well in advance if they are unable to meet the agreed upon schedule.
LBHA ARE THE BEST.
This organization far exceeds any thing that we expected to get from the first time I used them when my wife and I lived in our condo. Tom and his crew both in the field and in the office are all around great.
A PROFESSIONAL COMPANY
Long Beach Heating & Air Conditioning does a lot of work for our construction company. They install HVAC units into the homes we build and other odd jobs involving AC units. They're the only heating and air conditioning company that we work with and we've been doing business with them for over ten years. Everyone at Long Beach Heating & Air Conditioning is easy to work with and very professional. I'd also like to mention Connie who always gives us wonderful customer service!
KNOWLEDGEABLE, COURTEOUS AND FAIR PRICED
Know what they are doing and in all the years of doing business with them they have been showing up on time as promised. Service men have been pleasant and clean. Overall a go to company when needed
GOOD BUSINESS
COMPANY WAS GOOD AT ANSWERING CALLS, ANSWERING QUESTIONS, AND GOT THE JOB DONE
PROMPT, EFFICIENT, PROFESSIONAL
The company responds promptly to my service request. The technician was friendly and knowledgeable. He provide a number of options and implemented the one I chose. The overall experience was dealing with a professional outfit. Recommended.
PROMPT SCHEDULING, GOOD WORKMANSHIP, FAIR AND HONEST PRICING
Great company to work with - from the owner to the office staff, to the service technician. All are extremely knowledgeable and take the time to answer any and all questions. Prompt scheduling, good workmanship and fair and honest pricing. Would definitely use again.
SAVED A LOT!
Had another co. give me an estimate on why my air was not cold they said I needed a new system at the tune of $10,000! Called LB heating and air and the tech found a small leak that emptied the Freon from system and he fixed and refilled, the system worked fine and has for 4 yrs.
EXTREMELY CUSTOMER SERVICE ORIENTED
This company has both installed and serviced my heating and air conditioning system for the past ten years. I have been very impressed with the courtesy of the service technicians and the phone representatives over the years for both their personal and technical expertise. So, I renew my contract each time it is up for renewal. However, no one is perfect,so that is why I provided a total experience rating as a 4.0 - there is always room for improvement. Thank you for taking care of your customers.
OVERALL EXCELLENT
Today, Mario came to my house and discovered the Freon leak. He promptly handled that problem and fixed it. Also, he performed the full annual maintenance service and explained everything that he was doing. In summary, he was very thorough, clean, and professional.
VERY PLEASED WITH THEM FOR YEARS
I have used Long Beach Heating & Air Conditioning for about 7 or 8 years and they do semi annual service on our HVAC system and they are very efficient. I also used them on commercial building I built, and they also now do service on that building as well.
I have had nothing but great service from them, I would recommend them to anyone.
CUSTOMERS FOR 12 YEARS. ALWAYS NICE, GOOD, ON TIME AND STRESS FREE.
We've been customer of Long Beach Heating & Air Conditioning, Inc. for 12 years now and they have always been prompt to respond. They get here on time and they do what they need to do, so, it's been pretty stress free for us. They are just really nice people and I'm happy to give them good feedback.
Award Winning Bryant Factory Authorized Dealer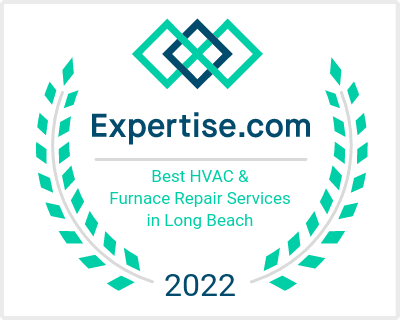 Recent Projects
Our experienced, factory-trained HVAC technicians completed a new furnace installation in Long Beach for a residential customer. We are highly qualified to install a range of heating systems, including heat pumps, gas furnaces, and packaged systems.
View All