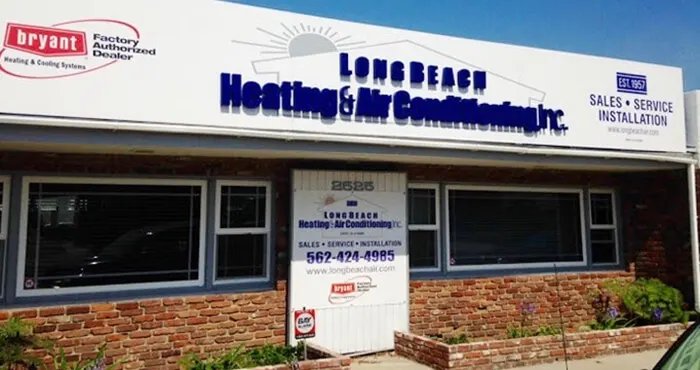 Long Beach Heating & Air Conditioning, Inc., Est. 1957
Having served tens of thousands of residents for more than 66 years, Long Beach Heating & Air Conditioning has become a fixture in the local community. Our service trucks can be seen driving to and from appointments throughout Long Beach, Signal Hill, Los Alamitos, Seal Beach, Huntington Beach, Palos Verdes, Hermosa Beach, Redondo Beach, Torrance, Manhattan, Downey, Paramount, and surrounding areas all day long. While we've grown to support a larger service area over time, we've also held fast to our commitment to providing our clients with personalized service and exceptional value.
The Oldest & Largest Heating and Air Conditioning Company in Long Beach, CA
Back in the early 1940s, our business was called American Heating Company and founded on the idea of providing exceptional service at a great price. Several years later, we changed the name to Long Beach Heating and Air Conditioning to match the name of our Long Beach Boulevard location and officially became incorporated in 1957. We eventually moved to our Signal Hill location, where we continue to serve the heating and air conditioning sales, installation, maintenance, and repair needs of both residential and light commercial clients.
The Premier Bryant® Factory Authorized Dealer in Long Beach
Today, as an award-winning Bryant Factory Authorized Dealer, Long Beach Heating and Air Conditioning continues to provide superior quality HVAC products and services with dedicated customer service. Because we have become so well attuned to the needs of our clients, we consistently earn glowing reviews and testimonials, receive a high percentage of customer referrals, and have won Bryant's highest recognition, the Circle of Champions. The Circle of Champions is a distinction that is only given to the top 55 Bryant Factory Authorized Dealers in the country. We've won the Circle of Champions award two years in a row (in 2013 and 2014), which is the maximum number of times the award can be won.
Call Today for the Best Value in Heating and Air Conditioning Services in Long Beach, Seal Beach, Signal Hill, Huntington Beach, the South Bay, and Beyond
As a locally based and family owned business, we believe in doing right by those in our local community. We do business the old fashion way--prioritizing great service, integrity, and value--and instill these principles to each and every one of our employees, from the front office to our service technicians. When you call Long Beach Heating & Air Conditioning, you can trust that we'll take great care of you and your HVAC needs. As our tagline says, "We're big enough to take care of your needs, but small enough to give you personal service."