The Preferred Choice for Air Conditioner Sales & Installation in Long Beach & Surrounding Communities Since 1957
Whether you are looking to install a quality air conditioning system at an affordable price or would like to upgrade to one of the best high-performance, energy-saving HVAC systems available on the market today, make Long Beach Heating & Air Conditioning your first call. We've provided the best value in air conditioning sales and installation to Long Beach area residents and businesses since 1957. We have tens of thousands of satisfied HVAC clients throughout Long Beach, Signal Hill, Los Alamitos, Seal Beach, Naples, Huntington Beach, San Pedro, and surrounding communities and have earned a coveted spot among Bryant's Circle of Champions, which is the highest recognition Bryant awards to its Factory Authorized Dealers.
Bryant Factory Authorized Dealer. NATE Certified Technicians - 100% Satisfaction Guarantee
Long Beach Heating & Air Conditioning is extremely proud to be a Bryant® Heating & Cooling Systems Factory Authorized Dealer because the name Bryant has become synonymous with quality. Bryant holds exceptionally high standards not only for its broad range of heating and air conditioning products, but also for its dealers. Bryant Factory Authorized Dealers are expected to stay up to date on the latest and best installation techniques, have NATE certified HVAC service and installation technicians, and maintain high customer satisfaction ratings. By having very strict expectations of its products and installers, Bryant is able to offer a 100% satisfaction guarantee on residential add-on and replacement air conditioner installations.
Bryant Air Conditioning Systems - Solutions for Every Budget
Bryant offers a variety of air conditioners, heat pumps, and mini-splits to meet a wide array of cooling needs. We recommend the Legacy™ line of air conditioners for those looking for a quality air conditioner at an affordable price. For anyone wanting incredible value, the Preferred™ system can't be beat. They offer quiet operation, energy efficiency, and high performance at a great price. And, for those who want the top-of-the-line air conditioning system, we suggest the Evolution® line of air conditioners, which features the latest HVAC technology, variable-speed compressor, quiet operation, and up to 21 SEER ratings. While we do sell and install other brands of air conditioners, we offer the best pricing on our Bryant line of HVAC products.
Personalized Whole-Home Consultations with an HVAC Installation Expert
Call today for a free comprehensive assessment to help you find the right air conditioning system for your home, office, retail store, or other space. We'll walk through your building, discuss your options, determine what size system you'll need, consider how to best layout your system, and review payment and financing options subject to credit approval. Once we've answered all your questions, we'll leave, work up an estimate at our office, and email it to you. Because we believe in building long-term relationships with every customer, we will never recommend anything you don't need or use high-pressure sales techniques. Our sales team is professional, factory trained, highly experienced, and knowledgeable in all aspects of HVAC.
Meeting the Highest Standard for Air Conditioning Installation & Replacement
All of our air conditioning systems are installed by EPA- and NATE-certified HVAC technicians, who have received specialized training in the proper installation of residential and commercial HVAC equipment. They have performed thousands of AC installations and replacements throughout Long Beach and surrounding cities over the years and provide truly exceptional customer service to each and every one of our clients. With every AC system installation, we make sure the proper permits have been pulled and complete all work to current building codes. All Bryant installations are backed by industry-leading warranties.
Competitive Prices - Financing Options With Approved Credit - Rebates
With Long Beach Heating and Air Conditioning, not only will you have a highly experienced HVAC technician handle your installation who will ensure you get the most out of your new AC system, but you'll also get a great price. Based upon annual benchmarking studies, we are competitive with most other independent heating and air conditioning contractors and typically 20-25% less than most big box stores. Additionally, we have a variety of options to help you better manage your new air conditioning purchase. Bryant offers convenient financing with approved credit on qualifying purchases. We're also knowledgeable about the local, state, federal, or manufacturer rebates that you may apply for.
Call Long Beach Heating & Air Conditioning Today at (562) 424-4985 for Your Free Consultation
Long Beach Heating and Air Conditioning is a licensed HVAC contractor. We carry over $2 million in liability and workers compensation insurance. We're also family owned and operated. In addition to following the best practices for proper installation, we also pay close attention to all of the other aspects of our service that affect our clients' experience, from arriving on time with everything needed to get the job done to wearing booties and laying down tarps to keep your property clean. Call today to schedule a free consultation. We serve all of Long Beach, Signal Hill, Seal Beach, Huntington Beach, Los Alamitos, Palos Verdes, Hermosa Beach, Redondo Beach, Torrance, Manhattan Beach, Downey, Paramount, and surrounding cities.
Award Winning Bryant Factory Authorized Dealer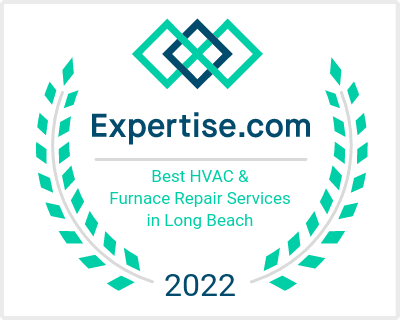 Reviews
PROFESSIONAL AND KNOWLEDGEABLE
My air conditioner stopped working (during a 5 day heat wave of course) They had installed my system so I called, looking at my record, she let me know parts were still covered by warranty and what the charge for the service call would be and when a service person could arrive He arrived within his 2 hour window, took pictures of what the problem was so he could clearly explain it to me, fixed it and I had air! Professional and knowledgeable - thanks James K